What are TIMs?
TIMs stands for Thermal Interface Materials. Heat generated by a semiconductor must be removed to the ambient environment to maintain the junction temperature of the component within safe operating limits. Often this heat removal process involves conduction from a package surface to a heat spreader that can more efficiently transfer the heat to the ambient environment. The spreader has to be carefully joined to the package to minimize the thermal resistance of this newly formed thermal joint.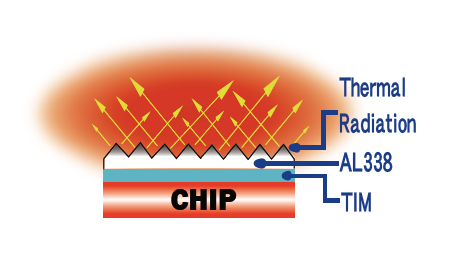 Thermal grease is a thermally conductive compound designed to be used as an interface between heat sinks and heat sources. The main purpose of thermal grease is to eliminate air gaps or micro spaces between the heat sink and heat source. The top surface of a heat source is not perfectly flat. There tend to be microscopic grooves or uneven surfaces which create air gaps between the microprocessor and heat sink, reducing the effectiveness of the heatsink. Thermal grease maximizes heat transfer between a heat source and heat sink.
How is thermal grease applied?
Thermal grease is typically applied through screen printing, plate printing, or stenciled onto the heat spreader or heat sink.
What are thermal gap fillers?
Gap fillers are a specific type of interface material, designed to form to various gaps within a component. Thermal gap fillers are well designed to form and fill variation in gaps between one application and another. Thermal gap fillers come in die-cut preforms making them easy-to-handle during the application process.
What does "naturally tacky" mean?
The properties of rubber are naturally tacky. Without the application of adhesive, the material will be able to stay in place during assembly. Keep in mind the "natural tack" varies by product. Adhesive can be added to products; however, it is not always recommended because it may increase thermal resistance.
Do gap fillers need to be compressed?
Gap fillers require some force to reduce the contact resistance between heat source-TIM-heat sink. We recommend a minimum amount of compression to ensure good thermal contact. Compression will vary by product.
Are gap pads "reworkable"?
It all depends on the product application. In many cases gap pads are reworkable, but it depends on the product design and whether the designers intended the gap pads to be reworkable.
Are harder gap fillers better?
It depends on the requirements for the gap filler.
What is the shelf life of gap pad?
The shelf life for gap Pads is one (1) year from date of manufacturing. For Gap Pad with adhesive, the shelf life is six (6) months from the date of manufacture. After these dates, inherent tack and adhesive properties should be reapplied. The Gap Pad material long-term stability is not the limiter on the shelf-life; it is related to the adhesion or "age up" of the Gap Pad to the liner. Or in the case of a Gap Pad with adhesive, the shelf life is determined by how the adhesive ages up to the removable liner
What is thermal putty?
Thermal putty is a great alternative to thermal grease. Thermal grease may cause issues because of its positioning or potential to pump-out and contaminate other components. Thermal putty tends to be better than grease because there is less pump-out during the application process. Thermal putty also has a lower thermal resistance than grease making it an ideal product.